Interreg Europe
Interreg Europe: Beyond EDP
Improve the RIS3 effectiveness through the management of the entrepreneurial discovery process (EDP)
---
1st April 2016 to 31st March 2021
How can we stimulate European businesses, knowledge institutes, and relevant partners to join forces to discover new ideas which could lead to innovation? That is the central question in Beyond EDP, a European Interreg project formed by eleven partners from nine countries.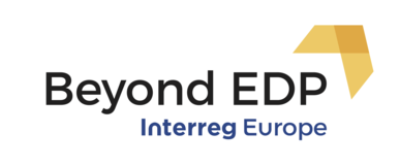 Theoretically, Regional Innovation Smart Specialisation Strategies (RIS3) are expected to provide a relevant solution to this issue, but the RIS3 quality is entirely based on the efficient understanding and implementation of the Entrepreneurial Discovery Process (EDP). Beyond EDP addresses the issue of inadequacies in the design and implementation of innovation policies by recognizing that policymakers do not have innate wisdom about future priorities. They need to be prepared to listen to entrepreneurs, researchers, and citizens to identify specialization areas, improve their acceptance, and facilitate the emergence and growth of new activities.
The Beyond EDP project addresses the core of the European innovation strategy, making it a critical project for achieving the goal that Europe wishes to reach by 2020: an economy based on smart, sustainable, and inclusive growth. It stimulates relationships and cross-connections between regions, as well as between businesses, knowledge institutes, and other stakeholders and promotes innovation for smaller SMEs, whether they are focused on high tech or craftsmanship not only in the cities but also in the countryside.
Beyond global value chains identified by designing RIS3, policymakers have to build a dynamic ecosystem to identify where and how available knowledge could be used. Furthermore, they have to find the right policy mix resulting from the EDP, thus "Beyond EDP" project aims at professionalizing EDP management. It will, in turn, facilitate change management and its acceptance by regional stakeholders, particularly the managing authorities. By doing so, it will allow avoiding common mistakes and will provide efficient methodologies and practices, that will benefit European regional policymakers to enable them to implement effective RIS3 for their regions. Not only the efficiency of RIS3 will be improved, but also the development of relevant public policies.
Coordinator: Centre-Val de Loire Regional Innovation Agency (FR)