Interreg Europe
SCALE UP
---
Supporting concentration and robustness of SMEs within the renewed EU industrial policy
SCALE UP plans to improve policy instruments supporting SMEs capacity to growth in national and international markets. Main objective of SCALE UP is to contribute to European competitiveness and accelerate regional economic growth through the improvement of 6 policy instruments linked to business growth and robustness. SCALE UP represents six EU regions (plus Advisory partner) with different stages of development in terms of industry SMEs scale up but common needs.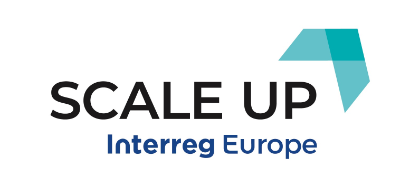 The following scale-up key areas have been identified to work in the project:
New business collaborative models;

Improve collaborative culture between science, technology, innovation & industrial companies;

Regional smart specialisation sectors in form of partnerships/networks/clusters;

Use & adaptation to new technologies and accessing to finance tools.
SCALE UP's work plan has been designed following a coherent and integrated approach where all the activities are interlinked and framed in a logical path. The approach starts with an analysis of the partners' local situations to identify valuable practices which will then be reviewed (through site visits and peer reviews) in a perspective of transfer and adaptation, to design and implement 6 action plans.
These stages are backed up by structured activities and a learning process to improve the level of development of business scaling policies and knowledge of key actors (Interreg Policy Learning Events, brokerage events, roundtables, open innovation seminars, etc). Stakeholders Action Groups will be created in each region and main local & regional actors will be actively involved in the whole interregional learning process.
The lead partner of SCALE UP is Instituto de Fomento de la Region de Murcia (ES).

Contact person within EURADA: Ivana Rae Almora irae.almora(at)eurada.org