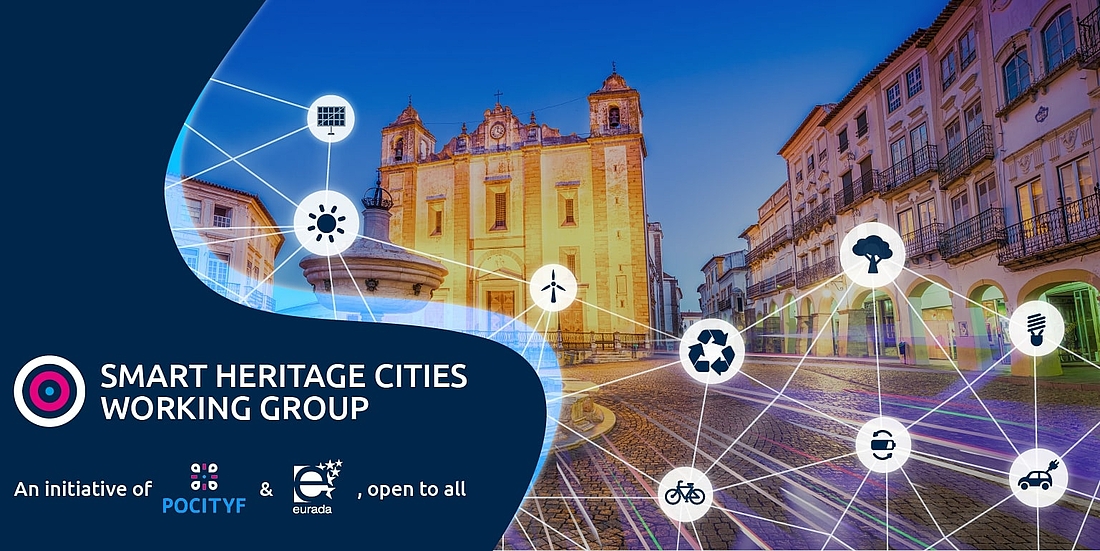 Smart Heritage Working Group
The Smart Heritage Cities Working Group (WG) has been established to gather expertise on the topics of smart cities and communities and Positive Energy Blocks (balance between energy consumption and production at local level) in cultural heritage areas.
The aim of this Working Group is to create a community of professionals to:
- facilitate the exchange of practices and knowledge in the field of smart cities and communities to achieve Positive Energy Blocks, while addressing the constraints experienced in heritage cities;
- lead new ideas and cooperate at European level to develop new projects focused on smart cities and communities for Positive Energy Blocks applied to cultural heritage cities;
- disseminate best practices in initiatives related to the topic of smart cities, energy transition, and Positive Energy Blocks (for instance the project POCITYF);
- engage partners and followers to work on common initiatives and projects;
- increase the support provided for local and regional agencies and SMEs on the energy transition challenge.
Activities of the Smart Heritage Cities WG
The members of the WG will be divided into sub-groups to deal with the following topics:
- Smart Cities and Communities
- Positive Energy Blocks in Cultural Heritage Areas
However, any proposals and inputs for other topics of interest to the members and stakeholders are welcome.
The Working Group meetings take place four times per year; three of them will be held virtually and one face-to-face whenever is possible. The first meeting took place on the 24th November 2020 online. The first in-person meeting will be one of the subsequent ones and will be held at a time when the situation allows for it more safely.
Meetings
24th of November 2020
The first session featured presentations by Martijn de Vries representative of Alkmaar (Netherlands). and João Formiga from Évora (Portugal). Both Martijn and Nuno gave us some insights into how they are dealing with problems inherent to twenty-first-century cities, and how to address them through the combination of breakthrough initiatives such as the Positive Energy Blocks, e-mobility, or innovative ICT technologies while respecting the urban cultural heritage. The last part of the meeting consisted of a survey and consecutive discussion about participants' relationship on the topics of smart cities and PEB.
List of the members of the Smart Heritage Cities WG
Sign-up is ongoing.
How to join the Smart Heritage Cities WG
The Smart Heritage Cities WG is opened to all interested stakeholders: Local authorities, regional development agencies, their stakeholders or EURADA members can apply.
If your organisation is interested in joining this WG, simply fill out this document and send it to POCITYF(at)eurada.org.